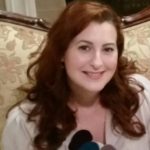 Lara Hernandez, M.S., LPA, LPC-I completed her undergraduate studies in Studio Art at the University of Texas at Austin.  She received a Master of Science in Clinical Psychology from St. Mary's University in San Antonio Texas.  She has worked in the mental health field for over 10 years in a variety of settings from state hospitals, college counseling centers, and private clinics.  She has worked as a psychometrist, psychotherapist, and ADHD coach. Most recently she worked as a Licensed Psychological Associate (LPA) under the supervision of Dr. Tsukahara at ADD Austin where she administered psychological tests and saw clients individually for therapy, ADD/ADHD coaching and study skills training.  She is also a certified Cogmed Working Memory (CWMT™) Coach, working with children and adults to improve their working memory.
While working at ADD Austin, Lara enjoyed coaching her clients and found great improvements once pragmatic skills were learned and incorporated into their lives. She decided to open Attention Lab  to continue to help individuals with AD/HD improve the quality of their lives and empower them to rise above their struggles. Now that she has received her LPC-I license, she is working under the supervision of Nancy Brown, LPC-S at Nancy Brown Therapy to complete her internship hours.
In her free time she enjoys spending time with her husband and two kids.  She loves to cook, paint, and work on craft projects. Her art can be found here.  She loves spending time with friends and family and enjoys spending time in nature. Often times she collects seed pods from her walks that inspire her to paint. She and her husband often tackle DIY projects at home, which includes an entire remodel of their kitchen!